¡Hola de Valencia! First drawing from Palau de la Musica | music drawings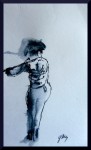 We are back in our favorite winter quarters, where the sky is always blue and the winter temperatures moderate, the street life vibrant, the food fresh and varied, and the people warm and friendly.  It's a place that brings smiles to our face the moment we look out the window or go out the door.
The flight from Rome is normally quite beautiful.  You might get a view of the Coliseo.  You fly over Sardinia and then get a lovely view of Valencia.  Not this flight.  Weather has hit the entire Iberian Peninsula, and even Valencia is effected.  Light rain greets us but still we shed the jackets and sweaters we were wearing to get to the airport in Rome.
We are staying in a new 'piso.'  This one is near Plaza de Toros, much larger than our previous place, more expensive too, but better for the painter in the household.  We will miss our view:
We go to the Palau de la Musica here most Sundays to listen to the symphonic bands, of which there are many in the province.  The first Sunday we heard the Banda Municipal.  I often do small pen and ink drawings as I listen.  Here's the flautist playing a piece by one of local composers: